Careers Page
We're looking for a
Design Lead
Philadelphia, PA

Full Time

$97,000 - $130,000
Work with us in one of our client's downtown office, a beautiful Art Deco Style building with onsite dining, coffee bar, and fitness center. The site is easily accessible by car and train with transportation compensation for eligible Thinkers.
We are looking for a Design Lead to join our team at Think Company.
You should have experience leading major design and user research initiatives, being the client's primary point of contact, and partnering with multi-disciplinary internal teams. If you can communicate your ideas clearly and enjoy solving problems through an intensely collaborative design process with clients and colleagues, you may be our ideal candidate.
Our Design Leads serve on project teams by leading the creation of UX deliverables, leading Think Sessions, and overseeing other design activities.
Responsibilities
Build and maintain positive relationships with clients

Strategize and lead competitive and market research efforts

Lead and participate in creative brainstorming sessions with clients and internal project teams

Clearly and effectively present ideas, research findings, sketches, and other deliverables to clients

Design solutions that incorporate current best practices in usability, interaction design, accessibility, and customer service systems

Construct compelling narratives for product owner presentations that showcase new products and features to targeted audiences

Collaborate with client designers, stakeholders, and developers to build consensus and support

Create deliverables from scratch, including sketches, wireframes, workflow diagrams, requirements documentation, user research, usability testing scripts, and discussion guides

Conduct needs analyses by synthesizing client discussions, system assessments, user data, and market research

Lead UX research and usability testing sessions

Direct the team's effort and track their progress through tools such as Kanban-style boards, ticketing systems, etc.

Stay up-to-date on current best practices, trends, and technologies in user experience design
Requirements
Minimum of 5 years of proven experience in UX design 

Experience leading UX design and research projects and teams

Extreme attention to detail with a focus on efficiency

Proven ability to drive project work streams and deliverables with little to no oversight

Proven ability to clearly communicate design ideas to team members and clients in live presentations

Exceptional client relationship and consulting skills

Working knowledge of tools and applications that support UX deliverables, such as wireframes, prototypes, data visualization, and flowcharts

Solid understanding of front-end development and technology

Familiarity with designing for accessibility
Benefits
Competitive salaries, raises, and bonuses
Matched retirement account
Flexible paid time off
100% paid health and dental insurance
Perks
Work where you want
Paid parental leave
Personal training budgets
100% paid life and disability insurance
5 year anniversary trip
Commuter benefits
Life at Think
We're more than what we make
At Think Company, we build teams of talented practitioners, solve tough problems, and log off in time for dinner.
Life at Think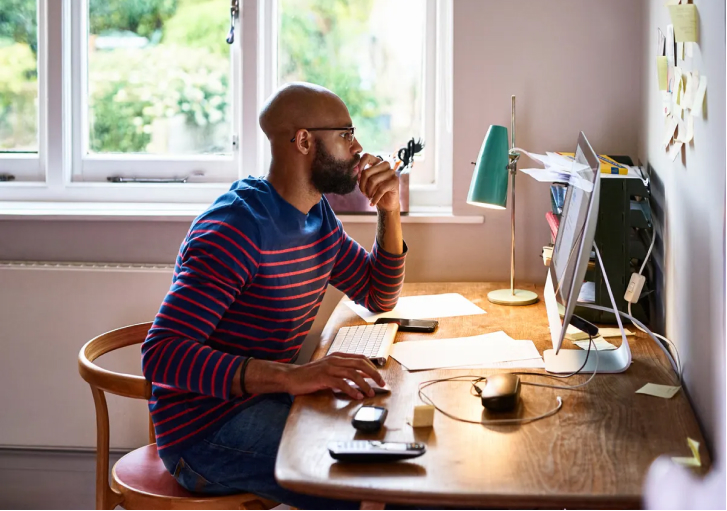 From the blog
Want to know what makes us tick?
Here's what we've been thinking about lately.