Careers Page
We're looking for a
Client Engagement Manager
Remote

Full Time

$100,000 - $115,000
Think Company operates in the United States as a fully remote company. As such, please consider this a remote (work from home) position. Please note that Thinkers are expected to operate within Eastern Standard Time Zone business hours.
Think Company is looking for a Client Engagement Manager to join our growing sales team.
In this role, you will be responsible for the long-term retention and growth of key accounts. To do so, you must keep a pulse on projects through connections you create with client stakeholders and project-teams who are responsible for delivering multi-year initiatives. Creating a viable business partnership with our clients will require you to maintain awareness of contract details and key dates to facilitate conversations about budgets, contracts, and team alignment. Maintaining connections with delivery team managers that support project planning and operations will be crucial for creating well-orchestrated engagements, tailored to the unique needs of each engagement, and essential for long-term account success.
You'll support client growth by collaborating closely with Business Development leads to facilitate introductions to key contacts you meet. You'll help communicate Think Company's product design and delivery expertise by contributing to sales conversations with relevant knowledge of our client's ways of working and business needs.
Core Responsibilities
Sustaining key accounts: maintaining a log of stakeholder touchpoints and new connections, creating stakeholder maps, and account planning—identifying specific, actionable ways to increase the value of our partnerships for Think Company and our customers

Growing our business within existing client organizations: Identifying segments of the business, key contacts, and needs within our client organizations that align to Think Company services

Act as a trusted advisor to stakeholders, connecting with them to discuss the health of our engagements, gather feedback about our team, and providing recommendations that will create the most successful outcome, leveraging your own experience and Think Company's institutional knowledge

Liaise between business development, delivery, and management teams to communicate achievements, new business opportunities, risks, and customer feedback

Identify trends across multiple accounts and inform the evolution of Think Company services and process to meet client demands

Create quarterly business reports (QBRs) that summarize key financial metrics, risks, and opportunities
---
Essential Knowledge and Experience
A firm understanding of the digital product design organizations, processes, and methodologies

Experience scoping and estimating technology efforts

Consulting experience leading / managing teams on long-term engagements

Experience working with design, content, and development teams in a matrix environment

Familiarity with design thinking and change management

Worked with a variety of organizations (sizes, industries, etc)
---
Skills that will make you successful in this role
Situational Awareness
You are keenly aware of the environment of our engagements, able to identify issues that present delivery or reputation risk and capable of connecting dots to develop broader context of our client needs

You are able to process many inputs of an engagement, zooming in when teams require support and zooming out to maintain a broader picture of larger goals and influences surrounding our teams' work
Proactive, positive problem solving
When faced with challenges, you are able to work with others to identify different approaches to resolution and outline the pros and cons to each approach

You tackle challenges with even-keeled optimism and enthusiasm
Communication and Facilitation
You build relationships quickly, finding connections and building trust

You are able to distill complex ideas into simple references and talking points

Embodying our core values, while evangelizing what's best for our customers, Think Company, and our teams.

You are able to facilitate strategic conversations and act as a mediator between decision makers
Think Company operates in the United States as a fully remote company. As such, please consider this a remote (work from home) position. Please note that Thinkers are expected to operate within Eastern Standard Time Zone business hours.
Benefits
Competitive salaries, raises, and bonuses
Matched retirement account
Flexible paid time off
100% paid health and dental insurance
Perks
Work where you want
Paid parental leave
Personal training budgets
100% paid life and disability insurance
5 year anniversary trip
Commuter benefits
Life at Think
We're more than what we make
At Think Company, we build teams of talented practitioners, solve tough problems, and log off in time for dinner.
Life at Think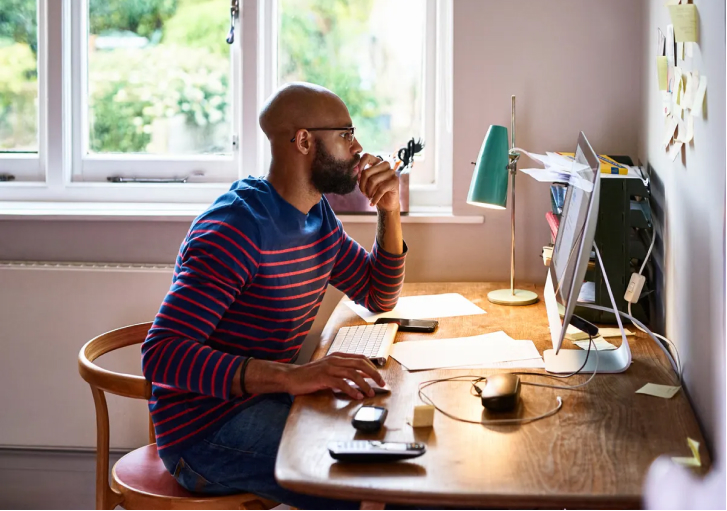 From the blog
Want to know what makes us tick?
Here's what we've been thinking about lately.