Careers Page
We're looking for a
Business Strategy Consultant / Facilitator
Skillman, NJ

Full Time

$125,000 - $150,000
Think Company is looking for a Business Strategy Consultant / Facilitator to join our client's Rapid Value Realization team for a six month project/engagement with likelihood of continuance. 
This position requires an average of one onsite day per week at client offices in either Skillman, NJ or Fort Washington, PA. 
RapidValue is an innovative methodology that combines Agile, Lean Startup, Lean UX, Design Thinking, and Service Design Principles to solve meaningful problems effectively. With a strong focus on customer engagement and feedback, we empower teams through Design Sprints and Workshops to uncover unmet needs, define value propositions, incubate Minimum Viable Products (MVPs), and design experiments that unlock significant business value. Join us in revolutionizing problem-solving through our RapidValue methodology.
In this dynamic role, we believe that the answer lies within the collective knowledge and expertise of our team. As a Business Strategy Consultant / Facilitator with a deep understanding of Agile techniques, you will guide our customers through divergent and convergent thinking exercises, uncovering potential opportunities and solutions that bridge the gap of unmet needs and maximize value. 
As the Business Strategy Consultant / Facilitator, you will take charge of planning, executing, and delivering transformative workshops and training programs that revolutionize the way that our client creates products and services. This position offers high visibility and influence, requiring effective communication and collaboration with a diverse range of internal and external stakeholders. Your responsibilities will encompass leading workshops and ensuring successful project execution.
Using our proven workshop format, we help our clients identify unmet customer needs, define compelling value propositions, and create actionable plans to achieve those propositions for both digital solutions and business strategies. In the realm of digital solutions, we take it a step further by focusing on outcome-driven Minimum Viable Products (MVPs) and designing experiments to validate the value proposition.
Responsibilities of a Think Company Business Strategy Consultant / Facilitator: 
Partner with the Rapid Value Realization Director and Associate Director to help teams at our client's organization solve key business challenges by leading them through the rapidValue Realization (rVR) process (from exploring the problem to unlocking the business value).

Lead the development and approach of end-to-end business processes to support wiring and design of our client's Operating System. Leverage Service Design, Agile, and Lean UX best practices to establish ways of working, processes, and agile approach to commercial execution.

Organize and guide teams through Rapid Value Realization workshops, help them embrace the desired behaviors and continuously improve ways of working. 

Lead the internal team to create the conditions for a successful workshop.  This includes acting as the lead to provide the strategy and approach to support the planning, coordination, and workshop logistics. Work with the team Project Manager in helping to ensure the facilities and tools that are needed are available.

Follow through before/after the workshop with key constituents to ensure successful project planning and execution.

Serve as a change agent. Challenge the status quo and how things have always been done; bring new ideas or innovations to bear on existing efforts.

Partner with the Global Head of Agile Implementation to transfer and institutionalize the process, tools & capabilities across the organization.


 
Qualifications include, but are not limited to:
At least 10 years professional experience; 5 years in consulting

Extensive experience as a workshop facilitator to plan, organize and run workshops

Must have in-depth knowledge of the rapid value realization process and the relevant methodologies (Google Design Sprints, Design Thinking, Lean Start-up, Experimentation & Prototyping, Service Design, Service Blueprints)

Proven ability to guide teams through complexity and uncertain/ambiguous circumstances required

Innovative mind with a passion for growth, change and continuous learning

Excellent stakeholder management and communication skills to connect and effectively collaborate across a diverse group of business stakeholders

Relevant IT skills to help teams leverage relevant technology (Mural, Kanban, etc.) and to maintain the agile website

Experience within Consumer Health or Health Care space preferred

Ability to travel up to 30% domestically and/or internationally
Benefits
Competitive salaries, raises, and bonuses
Matched retirement account
Flexible paid time off
100% paid health and dental insurance
Perks
Work where you want
Paid parental leave
Personal training budgets
100% paid life and disability insurance
5 year anniversary trip
Commuter benefits
Life at Think
We're more than what we make
At Think Company, we build teams of talented practitioners, solve tough problems, and log off in time for dinner.
Life at Think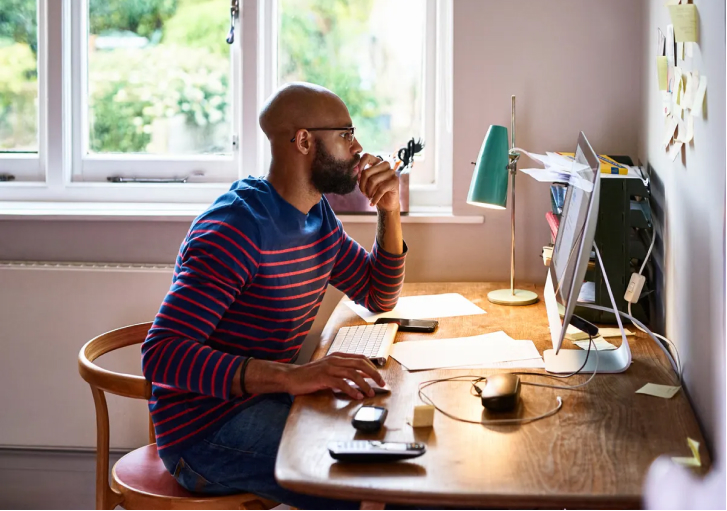 From the blog
Want to know what makes us tick?
Here's what we've been thinking about lately.